Magnetic Island, QLD
Magnetic Island has a laid-back charm and beauty that makes it one of the great budget holiday destinations off the north Queensland coast. Although the island is only eight kilometres from Townsville, (20 minutes by fast ferry), it is a world apart from the bustling north Queensland capital. About 2500 permanent residents live in secluded pockets on the 5184ha island, two-thirds of which is protected by National Park.
One of Australia's largest populations of koalas roam free in the park, along with possums, rock wallabies, curlews, hawks, eagles and parrots. Magnificent white sand beaches make fishing and boating a way of life and comfortable climbs on the 21km of well-defined bush walking tracks present breath-taking views Magnetic Island is one of those places that allows you to set your own agenda both in choice of accommodation, which ranges from full-on luxury resorts to hostels. It is an environment that appeals to walkers and 80kph-plus jet-skiers, to anglers and horsemen, to snorkellers, golfers, nature-lovers, historians, beachcombers and dedicated sun-worshipper.
.
Once you get over there, there are a multitude of ways to get around which include hiring a car or moke, motorbike, scooter and bike or you can simply walk. It is about 12 kilometers from one end of the island to the other by walking along the road.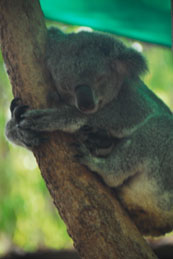 Access to Magnetic Island is via ferry boat. You can choose from either "Fantasea Car Ferry" or "Sealink"
Fantasea is the Magnetic Island car ferry and is the only way to get to the Island with a car. Fantasea allows you to take up to 6 passengers or a leagle load across with your vehicle. It leaves the city terminal 7 times a day, arriving 40 minutes later at Nelly bay. Its first service of the day leaves at 7.10 am and last at 6.05 pm.There is also a bar and cafe on board. Phone (07) 47969300 Website www.fantasea.com.au
Sealink do 18 transfers to Magnetic island a day, which takes 20 minutes. Its first service of the day leaves at 5.30 am and last at 10.30 pm. There are 7 departures a day but only 6 on Saturday and Sunday as there is no 6.00am ferry. There is also a bar and cafe on board. Sealink also do day trips to the Great Barrier Reef, where you can snorkel, dive or take a ride in their glass bottom boat. This includes your lunch, morning and afternoon tea. You can also do "discover SCUBA" while you're out there, to see if you like it. More information is available on their website. www.sealinkqld.com.au
Activities on Magnetic Island:
"Swimming" enclosure nets are situated at "Picnic bay" and "Horseshoe Bay"
"Walking Trails" Throughout the island are many walking tracks 25 kilometers in total, with spectacular views from hill tops. Also, not to mention the wildlife, such as koalas, possums, wallabies and tropical bird life.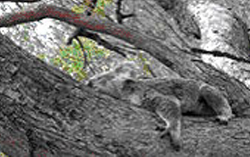 The chance of seeing Koalas in the wild is very high and these walking trails are a great way to see them in their natural habitat. Not to mention the historic World war II Forts walk with its 360' views of the coast back towards Townsville and the Coral sea.
Hawkings Point track - 1.2km return (1 hour) Grade: Easy From Picnic Bay, a track winds to the top of a large boulder, affording views over the island to Nelly and Geoffrey Bays and back towards Townsville.
Picnic Bay to West Point - 16km return (5 hours) Grade: Easy This walk follows a bush track that links the bays on the western side of the island. The track passes a tidal wetland, mangroves, paperbark swamps and savanna grasslands.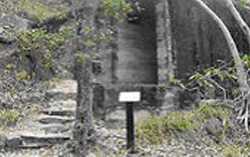 Nelly Bay to Arcadia - 5km one way (2.5 hours) Grade: Moderate From Nelly Bay, this walk passes through a rainforest pocket, climbs gradually to the saddle between Nelly and Horseshoe Bays and follows a ridge with views over Horseshoe Bay. The track then branches, with one track leading on to Horseshoe Bay, where you can continue on to other tracks, and the other to Arcadia Bay.
The Forts walk - 4km return (1.5 hours) Grade: Moderate From the turn-off to Radical Bay, this track ascends, sometimes steeply, to follow a ridge behind the bays before arriving at the ruins of the Forts complex operated during World War II. Lookouts afford excellent views to the Palm Island Group in the north and Bowling Green Bay National Park in the south.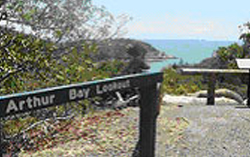 Arthur, Florence and Radical Bays - 1.4km-6km return (30 minutes-2 hours) Grade: Easy
From the Forts car park on the Horseshoe Bay Road, an easy track leads down to these undeveloped bays which provide excellent swimming and snorkelling.
· Arthur Bay walk - 1.4km return (30 minutes)
· Florence Bay walk - 3.6km return (1 hour)
· Radical Bay walk - 6km return (2 hours)
Horseshoe Bay Lagoon - 200m return (15 minutes) Leading off the main road near Horseshoe Bay beach, a short track leads to the lagoon where a number of waterbirds can be seen.
Horseshoe Bay Road to Balding and Radical Bays - 3.4km return (1 hour) Grade: Moderate From the eastern end of Horseshoe Bay beach, the track climbs through a steep gully of closed forest to a ridge with open eucalypt woodland. One branch of the track leads down to the secluded Balding Bay and the other continues on to Radical Bay. Both bays are good places for a swim.
Wreck Dive on Magnetic Island this is a cheap alternative to paying for for the privlage and there are numerouse wrecks on the island.
Other activities on Magnetic Island: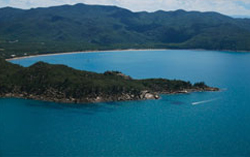 Dive Operators
Pleasure Divers Phone (07) 4778 5788 PADI Dive Courses, form beginner to Instructor Diving and snorkelling on Magnetic Islandwww.divemagneticisland.com
"Horseshoe Ranch" situated on Magnetic Island, is one of the only places you can take your horse swimming. This is suitable for beginners to advanced. Phone (07) 4778 5109 www.horseshoebayranch.com
"Magnetic island Sea Kayaks" Discover Magnetic island in kayaks on a guided tour showing the best of Magnetic islands national parks Phone (07) 4778 5424 www.seakayak.com.au
"Magnetic Island Tour" Take a half or full day tour of Magnetic island in the comfort of a stretch Jeep. Phone (07) 4758 1800 www.tropicanatours.com.au
"Reef Eco Tours" Discover the best Coral Reefs around Magnetic Island with Dr Andy Lewis, local marine biologist, and his experienced staff. Phone 0419 712 579 www.reefecotours.com
"Jazza 12 m Monohull" Enjoy a day cruising around the waters of Magnetic Island and go snorkeling or swimming in some of the more secluded bays. The Jazza runs 7 days aweek. Phone 0404 875 530
Adrenalin Jet Ski Tours Adrenalin Jet Ski Tours are the ultimate in jetski experience. With tours to suit all budgets and flexible timetable Phone (07) 4778 5533
Jet Ski Hire Horseshoe Bay on Magnetic Island, is where all the island's water activities happen! Phone (07) 4758 1100www.jetskihiremi.com.au
Tropicana Guided Adventures Welcome to the best day trips of Magnetic Island! Phone (07) 47581800 www.tropicanatours.com.au
Providence Join us on board Providence V, a 62-foot gaff rigged schooner which runs day and evening sails around the granite-bouldered, magnificent beaches of Magnetic Island. Phone 0427 882 062 www.providencesailing.com.au
Get Around Island Boat Tours! Tours are relaxed, informal, friendly and most importantly... on "Maggie Time" - you won't be hurried Phone (07) 4778 5909 www.getaroundisland.com
Aquascene Charters are snorkelling and fishing specialists. Phone (07) 4778 5911 www.aquascenecharters.com.au
"Utopia" Come aboard Utopia to fish, cruise or simply experience Magnetic Island and the Great Barrier Reef in luxury aboard our 50ft Riviera. Phone (07) 4758 1000 www.utopiagamefishing.com.au
"MI Wheels" Discover Magnetic Island in our classic Mokes Phone (07) 4758 1111
Road Runner Scooter Hire - Scooters are an easy and fun way to see our beautiful island. Beginners are welcome. Trail bikes allow access to West Point & Radical Bay. Minimum age 18+ www.magneticinformer.com.au/tours_activities
Tropical Palms car hire offers car and 4WD hire at competitive rates for island visitors Phone (07) 4778 5076www.tropicalpalmsinn.com.au
"Stage Door Theatre" Enjoy the experience of a lifetime at Stage Door Theatre Restaurant and see "The Greatest Little Show on Earth". Phone (07) 4778 5448 www.stagedoortheatre.com.au
Accommodation on Magnetic Island
Arcadia Beach Guest House 27 Marine Parade, Arcadia Tel (07) 4778 5668 or 1800 655 680 Websitewww.arcadiabeachguesthouse.com.au Email info@arcadiabeachguesthouse.com.au
Arkie's Backpacker Resort 7 Marine Parade, Arcadia, Magnetic Island Tel (07) 4778 5177 or 1800 663 666
Base Backpackers 1 Nelly Bay Road, Nelly Bay Tel (07) 4778 5777 www.stayatbase.com
Bungalow Bay YHA 40 Horseshoe Bay Road, Horseshoe Bay, Magnetic Island Tel (07) 4778 5577 www.bungalowbay.com.au
Forest Haven 11 Cook Road, Arcadia, Magnetic Island Tel (07) 4778 5153 Forest Haven Website